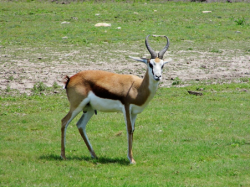 When you're marketing your Kansas City rental property to families, you know there are certain property amenities they appreciate more than others. And during the summer months, attracting families means highlighting the area events and community perks, too. Today, we'll share some of the more popular Kansas City summer attractions families love. You can incorporate some of these unique experiences into your messaging to demonstrate how rewarding summers can be for families living in Kansas City.
1. Kansas City Zoo
You can't have a summer of fun with the whole family without a trip to the Kansas City Zoo. This 202-acre park is home to more than 1,300 animal species and was named as one of the country's best zoos. More notably, the Kansas City Zoo is well-known for its extensive collection of African native animals, including elephants, hippos, and rhinos. The kids will also love that this zoo is the best in the nation for viewing kangaroos and chimpanzees.
2. Worlds Of Fun
Kids of all ages flock to Worlds of Fun during the summer months. This sprawling amusement park stretches over 230 acres and has enough attractions to keep the family busy all day long. Ride the rides, sample ice cream, and explore the adjacent water park to stay cool. It's a Kansas City summer staple!
3. The Nelson-Atkins Museum of Art
Summer attractions can be educational for kids, too! Families have an arsenal of Kansas City museums to explore, including the Nelson-Atkins Museum of Art. Known for its massive collection of encyclopedias and Asian art, Time Magazine named it on its list of "The 10 Best Architectural Marvels." It's conveniently located at 4525 Oak Street and easy to spot with the larger-than-life birdie yard sculpture.
4. Science City
One Kansas City summer attraction that families love is Science City. Kids can get their "STEM" on at this Union Station attraction offering interactive science activities. There are more than 120 displays for the little ones to explore hands-on, including traveling exhibitions. Enjoy the City Extreme Screen theatre and explore the Arvin Gottlieb Planetarium for hours of educational entertainment.
5. Swimming in Kansas City
When the midwestern heat sets in, most families choose to live where there is plenty of access to local pools and swimming. Kids need to splash and burn off unused energy. And Kansas City is home to dozens of swimming venues. Remind your potential renters of the convenience of finding a not-so-crowded pool. Just a few local hotspots include Gorman Pool, Line Creek Pool, Grove Park Pool, Budd Park Pool, Swope Park Pool, and Jarboe Park Pool.
6. Kansas City Festivals for the Whole Family
Kansas City is home to countless festivals and seasonal events, perfect for families. While some of the calendar dates are still not determined, check the VisitKC.com listings for the latest details. Summer attractions on the books include The Future Stages Festival, offering a weekend of performances and family-friendly activities. The Great Lenexa Barbeque Battle is another favorite, hosting BBQ teams from all over the nation. Kids love the KC Airshow, where they get to witness the spectacular aerialists and exhibits. And the KC Riverfest, located at Berkley Riverfront Park, offers the ultimate Fourth of July fun, including one of the most impressive and largest fireworks displays in the entire Midwest.
Don't just advertise your rental property. Instead, attract families to your Kansas City property by highlighting these and the countless other summer events. And if you need additional help carving out your marketing strategy for the summer months, let us help! Our rental property management professionals know all the best Kansas City amenities to promote, especially when attracting families.