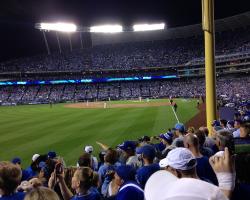 From romantic date nights, free attractions, and family fun adventures, there's no shortage of things to do in Kansas City, Missouri. Treat your senses to some of the best sounds, delicious BBQ, and aromatic floral gardens. Here, visitors looking for upbeat nightlife and those interested in more of a relaxing weekend getaway, both find exactly what they want. It's an ideal area to own rental property as well, as it offers a community-centric lifestyle. Kansas City offers one experience in particular that is unique to the area and draws fans from all over the country – baseball.
Major League Baseball, in response to recent mitigation recommendations to reduce the spread of COVID-19, made the decision to suspend the remainder of spring training games through the start of the 2020 season. Baseball fans nationwide are disappointed, but hopeful the regular season is able to resume on schedule. MLB says it will continue to monitor the situation and make changes to the regular schedule as necessary and in the best interest of the health and safety of fans, workers, and players. For those in Kansas City, Missouri, putting a hold on baseball can be especially difficult, considering baseball to many, is the heart of this Midwest city. It's Royals country, and you might be hard-pressed to find a fan base more loyal.
The Kansas City Royals Are the Pulse of the City
Spring is typically signified by the start of spring training and spring training games. It's a time when the weather gets warmer, colors return to the foliage, and the Kansas City Royals bench dusts off the gloves for another chance at winning it all. Regular season home games are played at Kauffman Stadium, a landmark in Kansas City, and a popular place to be all summer long. With its 322-foot-wide water spectacular in the outfield and one of the largest high-definition big screens in the League, it's the best place to enjoy a hotdog and catch a game. Inside the stadium, there's more to do with family and friends. Families line up to ride the carousel, do some base-running, and try their swing at the batting challenge. When the season is in full swing, walking around the stadium will have your mouth watering with the dozens of food and drink options available. In Kansas City, it's only right to have even the famous Kansas City Barbecue at the ballpark.
Baseball's World Series Champions
This American League ball club doesn't just play baseball; they win big. In 2015, the Royals won their first World Series championship since 1985, in a nail-biting performance against the New York Mets. It was the team's eighth comeback victory that year, and it took 12 innings in Game 5 to get it done. Since then, the residents of Kansas City, Missouri, and surrounding communities have solidified their love of city and baseball. The people in the area continue to not only rally around their beloved baseball team but seem to have an even fiercer loyalty to their Midwest city.
Royals Charities Is Giving Back
For now, the bats aren't swinging for the Royals, but they are still working. The Royals Charities has created a Royals Respond Fund to help support some of the nonprofit organizations in the area. Along with Royals players, ownership associates, and the Royals Charities Community Champions: Price Chopper and BCBS of Kansas City, these funds are collected to support area families in need due to school closures, employment loss, and shelter-in-place orders.
Baseball may be in a holding pattern for now, but the Kansas City Royals are still connected and supporting their hometown. It's a city rich in history, culture, and flavors that draws visitors year-round. Many opt to stay and make Kansas City their homes, in part due to the community feel. People also love it in the Kansas City area because of baseball and a ball club that makes everyone feel like family. If you need a partner for your rental property management efforts, that understands the Blue Springs and surrounding area, contact us today!