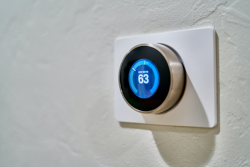 It's that time of year again. The Midwest nights are getting brisk and chilly, while the days seem to be getting shorter. As we head into November, people are busy preparing for holiday dinners and Christmas lists for the little ones. But 'tis the season for something else, too. Now is the time for Blue Springs rental property owners to do a little winter preparation and seasonal maintenance. To preserve your rental investment and ensure your tenants are safe and warm this winter, here are a few suggestions to add to your to-do list.
Trimming Back Branches & Tree Limbs
Consider hiring a professional to come and trim back any low-hanging tree branches, either near your roofline or hanging over your Blue Springs rental property. Dead or damaged branches won't hold up well with snow cover or the weight of ice. Falling branches can be far more detrimental to your property, or your tenant's property, than a little tree-trimming maintenance this fall.
Gutters, Downspouts, and Leaves, Oh My
Your gutters and downspouts are designed to channel rainwater away from the roof, structural materials, and foundation of the rental property. The fall season can bring countless ways to clog those channels, and you'll want to clear them before the snow flies. Consider hiring a professional who can test and unclog every gutter and downspout of debris. The melting snow this winter will need a place to go. And you don't want it to collect on your roof or along your foundation. It is also recommended that downspouts extend away from the property at least six feet.
Servicing the Heating Unit & Changing Filters
You'll obviously want to have a licensed HVAC technician take a look at any heating components in your property as part of your winter preparations. Seasonal maintenance is often recommended to guarantee the longest life of the units, but it can also be a preventative maintenance step. You will want to identify any issues or repairs now, and not in January or when the temperatures are below zero when your renters call you for assistance. If no significant concerns are detected, you can at least change the furnace filters and reassure your tenants that the heat should kick on when they need it in the coming months.
Draining the Water Heater
Many inspectors and certified technicians say it's generally a good idea to drain the water heater annually. Over time, the water heater, like so many other operational components in your Blue Springs rental property, will clog, build up sediment, or show signs of rust. Draining it annually can help reduce an overabundance of harmful residues. It can also be a good way to find and prevent leaks or issues with the water heater, as well. It's better to find a problem during a controlled drain as part of your winter preparation than during the frigid months ahead, after something bursts.
Have the Sump Pump Tested
Often overlooked, a malfunctioning sump pump can prove to be catastrophic. You don't always need it, but when you do, it had better operate properly. While you're having the water heater drained, consider also having your sump pump inspected. It's the only way to evict water from a low-lying basement area. And you may not necessarily anticipate water in January or February, but when the snow melts, there is an increased potential of groundwater to penetrate any weakened areas.
Winter preparation of your Blue Springs rental property doesn't have to be a hassle. Contact us to learn about what our rental property management professionals can do to help you stay on top of these essential winter prep lists.